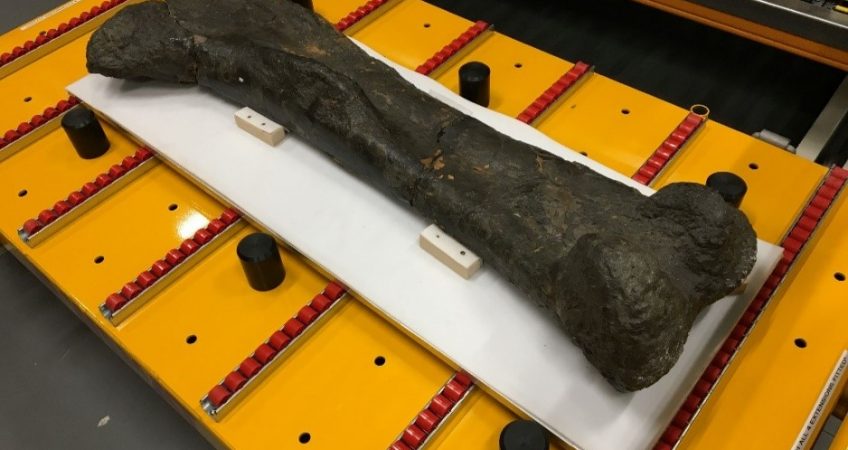 The University of Cambridge's Sedgwick Museum required a solution to access large, heavy, rocks and
fossils at the Colin Forbes Building, their new purpose-built geological store in Cambridge and contacted Wilmat for advice. Ranging from Mammoth Tusks to Meteorites, an estimated 2 million items have been acquired by the Sedgwick Museum since its foundation in 1728. Collections include specimens from Charles Darwin's Beagle Voyage and Robert Falcon Scott's British Antarctic Expedition of 1910-1913.
The Museum's largest geological specimens are currently stored at the new building on mobile racking with roller-track shelves.
After visiting the site to review the Museum's requirements, Wilmat provided a 'Bulldog' Pedestrian
Operated Counterbalanced Stacking Truck along with a Bespoke Trolley fitted with rollers and extension
arms at each end to accommodate longer items. The equipment was designed to enable Museum staff to easily remove and replace objects by rolling them off a shelf straight onto the trolley. Longest objects are stored at low level, so that they can be rolled directly on to the trolley with the extension arms in place. With extension arms removed the trolley can be lifted using the Counterbalanced Stacker, to reach smaller items stored on higher levels.
Dan Pemberton, the Sedgwick Museum's Collections Manager said 'In the past some of our specimens were too large or heavy to be made available for scientific research without considerable difficulty. Now these items are not only easily and safely accessible for research, but they can be regularly inspected for deterioration or damage and can be shown to visitors during special events held on site'
Dan continued 'Wilmat were very good during the design and sales phase and carried out a site visit to discuss our needs before proposing the solution. Wilmat also offer a very good training and support service'
Wilmat are honoured and delighted to have been involved in such an important heritage and research support project.