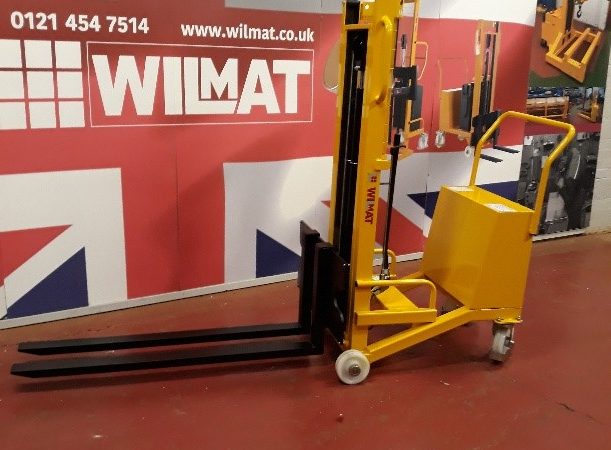 CVI Laser contacted Wilmat as they had a problem removing tooling from the roof of a vacuum coating system during problematic maintenance. Tony Cole, CVI's Process Engineer said 'These are large steel wheels and gears and weight between 10 and 40kg.
Originally we held them manually whilst they were unfastened from their mounting and we raised and lowered them by hand.
We realized that this presented a risk to the operators, so we adapted an engine hoist to raise and lower the tooling more safely.
This wasn't ideal as we needed an extremely long arm to access the tooling, and it caused us problems as it did not remain parallel in use'.
Tony continued 'Moving relatively large pieces of metal a heights presents a manual hazard. To address this we contacted Wilmat and explained the problem to them.
Wilmat's solution was a simple counterbalanced truck which would go right up to the machine, fitted with long forks to enable us to reach the mounting. We have never dealt with Wilmat before but found it a good experience. They responded to all of our requests promptly and kept us informed at every stage of the project. We needed some modification of the unit to meet our specific needs and Wilmat undertook the bespoke design and the safety calculations that were needed to ensure safe operation. The unit was delivered ahead of schedule and our Production Team are pleased to have it available. It has made servicing easier and safer'.
It was a pleasure to work with CVI to overcome their manual handling problem and we very much look forward to working with CVI again in the future