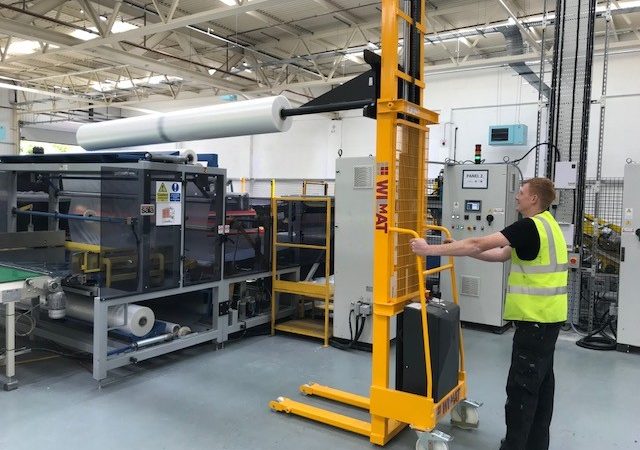 Usleep, a specialised manufacturer of mattresses and part of The Belfield Group, have recently taken delivery of a Wilmat Hand Pushed Battery Lift Reel Handler.  The group have several Wilmat lifting units which are used for loading poly rolls onto their packing machinery lines including Belfield Furnishings and Duflex Foam.
Glen Newman Engineering Team Leader said 'the poly rolls are 2.6m in length and weigh around 150kg so lifting these rolls by hand would be dangerous to our operators. The Wilmat machine allows our operators to make a quick and safe roll change possible and another benefit to us is the space saved by the unit.  In some areas it would be impossible to use a fork truck with a boom so the Wilmat ticks all the boxes for us'
Glen continued  'I first discovered Wilmat at a company called Myers Beds where I seen the benefits of the machine and introduced them to my present company, Belfield furnishings.  Since then we have acquired several more units to our other companies Duflex Foam and our new company Usleep.
Since we have been using Wilmat customer service has been excellent.  They are always willing to go the extra the mile and ensure our machines are running to their best by providing an excellent knowledgeable service team and by keeping a good stock of spare parts for quick despatch'
We are delighted to be working with Duflex again!
If you have a materials handling problem, please contact us on 0121 454 7514 x 1